A hat once worn by Napoleon Bonaparte sold for over $2 million at auction.
The iconic bicorne hat, faded and damaged over the centuries, sold for 1.5 million Euros (approximately U.S. $1,641,700) on Sunday amid sales of the French emperor's other belongings. 
''We are at 1.5 million (euros) for Napoleon's hat … for this major symbol of the Napoleonic epoch," announced Jean Pierre Osenat, president of the Osenat auction house, at the completion of the auction. 
The winner of the Osenate auction remains anonymous and will be forced to pay a 28.8% commission fee, bringing the total cost of the hat to approximately $2.1 million.
RARE POKEMON CARDS, FIRST-PRINT 'HARRY POTTER,' EINSTEIN MANUSCRIPT AND OTHER TREASURES UP FOR AUCTION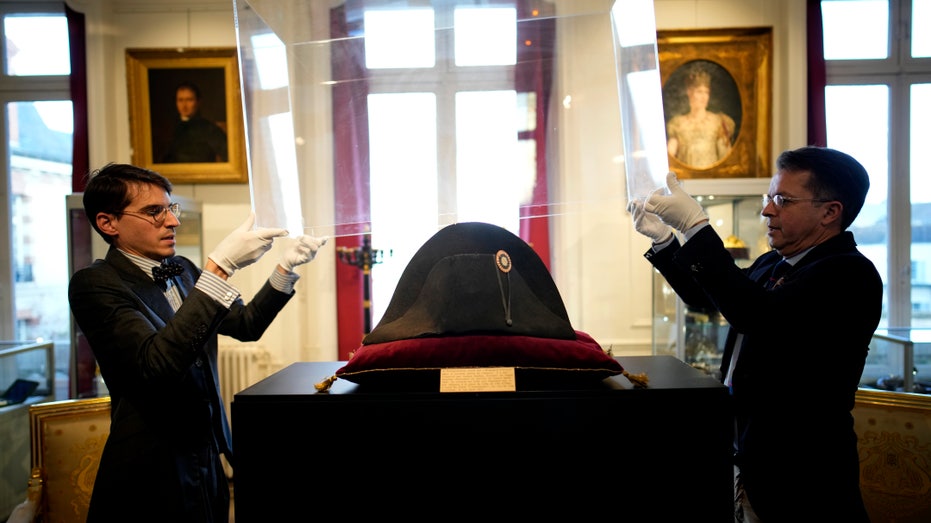 The final sale price shattered expectations after the hat was initially valued at approximately $650,000 to $870,000 ahead of the auction.
Auctioneers say the hat was first documented in the possession of Col. Pierre Baillon, who served as a quartermaster under Napoleon.
ERIC CLAPTON GUITAR SELLS FOR $1.27 MILLION AFTER BEING CONSIDERED ONE OF THE WORLD'S MOST FAMOUS INSTRUMENTS
After changing hands several times, the hat was purchased by collector Jean-Louis Noisiez, who gathered an extensive stockpile of Napoleon militaria over the course of his life.
Noisiez died in 2022, and curators began preparing his collection for auction.
Other notable items at the sale included Napoleonic swords, coins and firearms.
GET FOX BUSINESS ON THE GO BY CLICKING HERE
The auction took place in Fontainebleau, France. The tiny commune is approximately 35 miles south of the center of Paris.
Napoleon served as First Consul of the French Republic from 1799 to 1804 before declaring himself Emperor of the French.
He ruled the French Empire from 1804 until 1814 and then again briefly in 1815. He was ultimately banished to the island of St. Helena, where he died.


Read More: Napoleon's hat sells for over $2M at auction in France