Javier Milei, a volatile far-right libertarian who has vowed to "exterminate" inflation and take a chainsaw to the state, has been elected president of Argentina, catapulting South America's number two economy into an unpredictable and potentially turbulent future.
With nearly 90% of votes counted, the Mick Jagger impersonating TV celebrity-turned politician, who is often compared to Donald Trump, had secured nearly 56% of the vote compared to Massa's 44.1%.
Milei's rival, the centre-left finance minister Sergio Massa, conceded defeat in a press conference on Sunday night.
"Argentinians have chosen another path," said Massa, who said he had called Milei to congratulate him on his victory and would retire from frontline politics.
"Obviously these are not the results we hoped for and I have spoken to Javier Milei to congratulate him because he's the president that the majority of Argentines have chosen for the next four years," added Massa.
Pro-Milei activists rejoiced at the triumph of their 53-year-old leader, who they describe as an economic visionary poised to lead Argentina out of one of the country's worst economic crises in decades.
"[I'm] happy, happy, happy," said Francisco Jiménez, a 30-year-old delivery driver and Milei activist from Villa Soldati, a working-class area outside Buenos Aires.
As he set off to join the party at Milei's campaign HQ, Jiménez said he knew the result was likely to send Argentina's peso tumbling against the dollar and cause more economic pain. "But I don't think there is another option than trusting him. Now more than ever," he added. "The situation is dire."
During his campaign, Milei – who will take office on 10 December – vowed to abolish the central bank and dollarise the economy in order to overcome a financial calamity that has left 40% of Argentina's 45 million citizens in poverty and pushed inflation to more than 140%. "I know how to exterminate the cancer of inflation," Milei proclaimed during last Sunday's final presidential debate which most pundits believed Massa had won.
Milei's victory was celebrated by other big beasts of the global far-right including Brazil's former president Jair Bolsonaro who had championed his campaign and has promised to attend his inauguration. "Hope is sparkling in South America once again," Bolsonaro wrote on X, hailing what he called a victory for "honesty, progress and freedom".
Leftwing opponents reacted with shock and dejection to the election of a notoriously erratic figure whose radical ideas include legalising the sale of organs, cutting ties with Argentina's two biggest trade partners, Brazil and China, and closing more than a dozen ministries.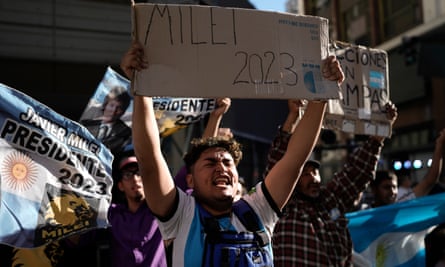 Milei – a climate-denying populist who is known by the nickname El Loco (the Madman) – has also enraged millions of Argentinians by questioning the four-decade consensus over the crimes of its 1976-83 dictatorship, during which an estimated 30,000 people were killed by the military regime. His vice-presidential running mate is Victoria Villarruel, an ultra-conservative congresswoman who has played down the dictatorship's sins.
"He is way more excessive and unstable than [Jair] Bolsonaro and Trump. So it's highly unpredictable what this person could do [in power]," Federico Finchelstein, an Argentinian historian who studies the global far right, said on the eve of Sunday's election.
Benjamin Gedan, the head of the Wilson Centre's Argentina Project, said he believed one word explained the scale of Milei's victory: desperation.
"This vote just reeks of desperation. A lot of Argentines voted knowingly against their economic interests because they recognise that the status quo is catastrophic. And there was no reason to believe that the current finance minister could plausibly be the answer," Gedan said. "It's a huge gamble but not a completely irrational one."
Gedan said the election of such a radical and inexperienced political outsider thrust Argentina into uncharted waters.
"The real risk is that Argentina melts down in his attempt to radically transform the economy. That would look like massive social unrest, national strikes by unions, potential political violence and stresses against the democratic institutions. There is a pretty dark scenario if in fact he pursues aggressively his maximalist vision for Argentina."


Read More: Argentina presidential election: far-right libertarian Javier Milei wins after rival