CNN
 — 

Southern California investigators are asking for the public's help as they parse through conflicting witness accounts about what led up to the death of a 69-year-old Jewish man who fell and suffered a fatal head injury during dueling Israel-Hamas war protests in Thousand Oaks on Sunday, authorities say.
The man, Paul Kessler, was engaged in a confrontation with a pro-Palestinian protester when he fell, but the exact cause of the fall is still unclear, Ventura County Sheriff Jim Fryhoff said in a Tuesday news conference.
"We're still waiting to see evidence of what occurred in that interaction, and whether or not there was a blow to the face that caused the fall, or if Mr. Kessler fell, without that being the precipitating event," Fryhoff said, urging people to come forward with video, photos or accounts of the incident.
Kessler, the sheriff said, was supporting Israel at the demonstrations – two among the many that have sprung up in cities across the US, either in support of Israel or to protest its retaliation for the October 7 Hamas attacks, which killed more than 1,400 people.
Israel has launched a military offensive that has killed more than 10,000 people in Gaza, according to the Palestinian Ministry of Health in Ramallah, drawing from sources in the Hamas-controlled enclave.
Kessler was still conscious and responsive when sheriff's deputies arrived on the scene shortly before 3:30 p.m. Monday. He was transported to a hospital, where he was listed in critical condition but died overnight as a result of his injuries, Young said.
Kessler's death is being investigated as a homicide and authorities have not ruled out the possibility of a hate crime, the sheriff said.
A 50-year-old suspect has been cooperative with investigators and was interviewed at the scene, where he told authorities he had been in an altercation with Kessler, according to the sheriff. The suspect said he had been one of the people that called 911 requesting medical help for Kessler, he said.
The suspect, who has not been publicly identified, was detained later Monday afternoon as the sheriff's office executed a search of his home, Fryhoff said. He was released after the search was complete and has not been arrested.
Though Kessler's manner of death has been ruled a homicide, the medical designation does not mean a crime has been committed, Dr. Christopher Young, Ventura County's chief medical examiner said Tuesday.
"It's simply stating that the death occurred at the hands of another person or the actions of another person contributed to the death," Young said, noting the district attorney's office will determine whether the homicide warrants criminal charges.
Both Jewish and Muslim community leaders have mourned the tragedy and condemned violence amid rising fears of hate-motivated attacks reported by Jews, Muslims and Palestinians in the US as war rages in the Middle East.
In response to the incident, the sheriff's office has increased patrols around both Muslim and Jewish houses of worship and community centers, Fryhoff said.
About 75 to 100 people were gathered during Sunday's protests, which were held at an intersection in Thousand Oaks by two groups identified as "Freedom for Palestine" and "We are Pro-Israel," Fryhoff said.
Before Kessler's fatal fall, there had been no violent encounters during the nearly two dozen protests that have been held across the county since Hamas raided Israel on October 7, the sheriff said.
At about 3:20 p.m. on Sunday, the sheriff's office received multiple calls about a possible assault related to the protests at the intersection, Fryhoff said.
When deputies and medical responders arrived at the scene minutes later, they found Kessler lying on the ground, conscious and responsive, according to the sheriff.
One video filmed at the scene shows Kessler lying on his back on the sidewalk, with blood on his face and on the ground. He places his hands on his head as a woman with a Palestinian flag on her back and a man lean over him, trying to help, the video shows.
The footage does not show the altercation that led to Kessler's injuries.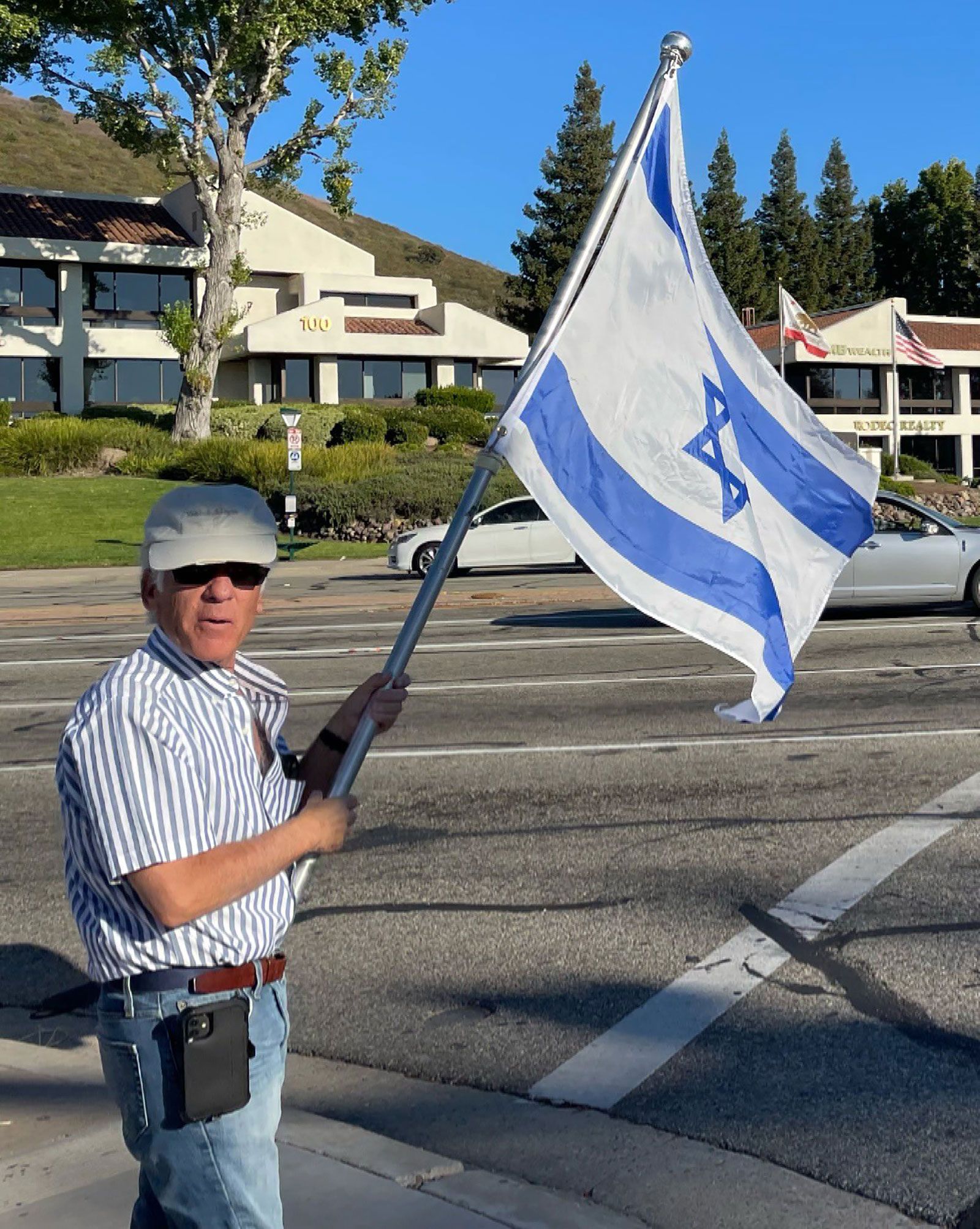 Investigators determined that a pro-Palestinian protester had been involved in an altercation with Kessler, who at some point fell backward and hit his head on the ground, authorities said.
Investigators interviewed pro-Israel and pro-Palestinian witnesses at the scene who provided contradicting accounts of who the aggressor was in the interaction and how the altercation occurred, according to the sheriff.
Kessler was given medical aid by Ventura County Fire Department responders and taken to a hospital, where he was listed in critical condition, according to the sheriff.
His condition continued to deteriorate until he was pronounced dead shortly after 1 a.m., the medical examiner said.
An autopsy was performed and Kessler's cause of death was determined to be blunt force head trauma, according to the medical examiner.
The autopsy also revealed Kessler suffered injuries consistent with a fall, including skull fractures, brain swelling and bruising, and non-lethal injuries to his face, according to Young.
Local government officials, as well as Jewish and Muslim community leaders, are imploring the community to be patient as authorities investigate the incident and condemning violence amid escalating tensions over the war between Israel and Hamas.
The Jewish Federation of Greater Los Angeles said in a statement Monday that it is "devastated" by Kessler's loss and expressed its sympathy for Kessler's family, adding that its leaders were waiting for more information about his death from law enforcement.
Still, the federation condemned violence against members of the Jewish community, saying it "has no place in civilized society" and vowing to "do everything in our power to prevent it."
"We demand safety," the statement said.
Rabbi Michael Barclay, of neighboring Westlake Village's Temple Ner Simcha, said he has spoken to the Thousand Oaks police chief and the Ventura County sheriff and urged people to wait for the investigation results.
"These are really good men I trust, and it's really important to let them do their job," Barclay told CNN. "'Never again' is now, but at the same time we don't need to make a fire."
The rabbi encouraged anyone with footage of the incident to share it with investigators.
The Greater Los Angeles Area office of the Council on American-Islamic Relations said it is "deeply saddened by this tragic and shocking loss."
"We join local Jewish leaders in calling on all individuals to refrain from jumping to conclusions, sensationalizing such a tragedy for political gains, or spreading rumors that could unnecessarily escalate tensions that are already at an all-time high," the council said in a statement Monday.
It continued: "While we strongly support the right of political debate, CAIR-LA and the Muslim community stand with the Jewish community in rejecting any and all violence, antisemitism, Islamophobia, or incitement of hatred."
CNN's Dakin Andone, Taylor Romine, Nouran Salahieh, Jillian Sykes, Stephanie Elam and Jason Kravarik contributed to this report.


Read More: California officials ask for the public's help as they investigate the death of a Jewish man