CNN
 — 

Investigators are searching for a motive in the death of a Detroit synagogue leader found stabbed over the weekend, the city's police chief said.
The body of Samantha Woll, president of the board of the Isaac Agree Downtown Synagogue, was discovered with multiple stab wounds at her home on Saturday morning, the Detroit Police Department said in a statement. She was pronounced dead at the scene.
Responding officers had followed "a trail of blood leading officers to the victim's residence," where it is believed the crime happened, the Detroit Police Department said in a statement.
Police have not identified a suspect in the case, and it's still unclear what led up to the killing.
"Understandably, this crime leaves many unanswered questions," Detroit Police Chief James E. White said in a statement on social media site X. "This matter is under investigation, and I am asking that everyone remain patient while investigators carefully examine every aspect of the available evidence."
"It is important that no conclusions be drawn until all of the available facts are reviewed," White added.
The FBI is aware of the incident, and "will assist the Detroit Police Department as requested," the agency said in a statement to CNN.
Michigan State Police have also been assigned to support local police in the case, Michigan Gov. Gretchen Whitmer announced. "Together, they will investigate this vicious crime and bring the perpetrator to justice," she added.
"My heart breaks for her family, her friends, her synagogue, and all those who were lucky enough to know her," Whitmer said. "She was a source of light, a beacon in her community who worked hard to make Michigan a better place.
Woll's synagogue released a statement Saturday expressing shock over the her death.
"We are shocked and saddened to learn of the unexpected death of Samantha Woll, our Board President," the synagogue said. "May her memory be a blessing."
Detroit Mayor Mike Duggan said he and Woll were celebrating the newly renovated synagogue together just a few weeks ago.
"It was a project she successfully led with great pride and enthusiasm," Duggan said. "This entire city joins with her family and friends in mourning her tragic death."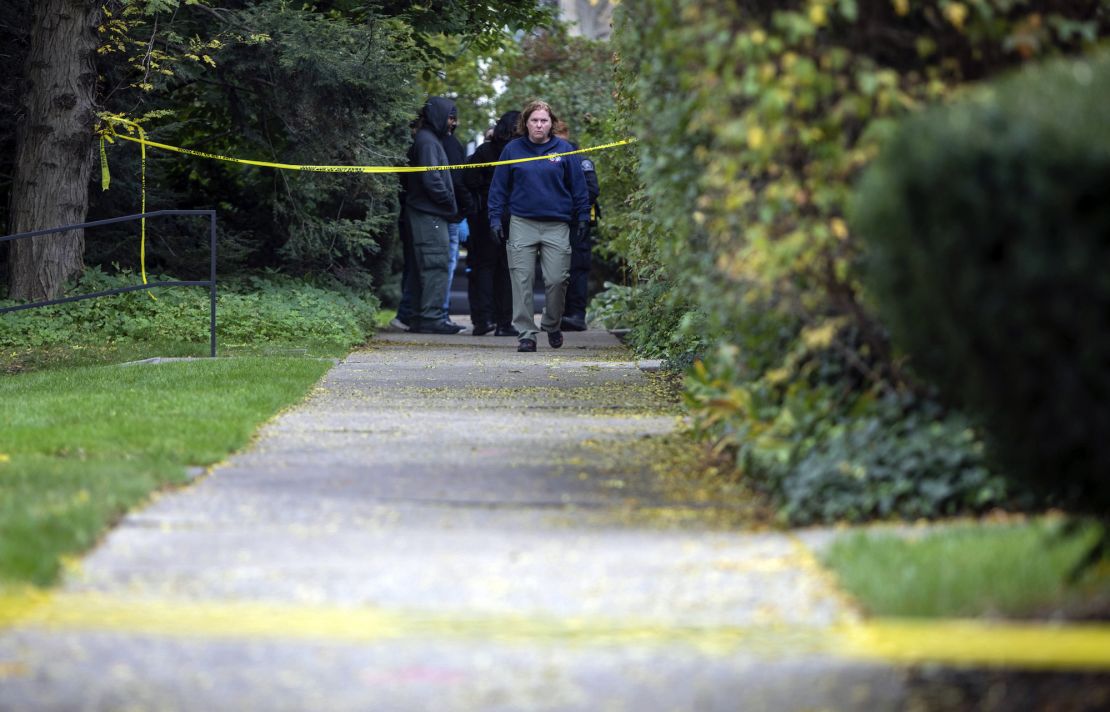 MoReno Tayor II, who worked with Woll on Michigan Attorney General Dana Nessel's reelection campaign in 2022, said her death was "a devastating loss."
"Sam was a bright ball of light," he told CNN. "She lit up every room that she walked into. She always had a huge smile. She always gave you a firm handshake and asked about you, wanted to get to know who you were."
He remembered Woll as a kind soul who was always involved in her community and was dedicated to giving back.
"She didn't deserve this, and I really hope that they find a resolution to this as soon as possible and find whoever is responsible," he said.
Taylor said he knew Woll for five years, and thought of her as a little sister.
"It's very difficult to imagine that someone who was so genuine and so kind could befall this kind of tragedy," he added.
Attorney General Nessel also shared her condolences in a statement on Facebook, saying, "Sam was as kind a person as I've ever known. She was driven by her sincere love of her community, state and country."
Woll had also previously worked with Congresswoman Elissa Slotkin, according to a post on Slotkin's social media.
The congresswoman said Woll "dedicated her short life to building understanding across faiths, bringing light in the face of darkness."
The Democrat said Woll worked for her by helping set up the office and leading it throughout her first term.
"My heart aches that we have lost someone so dedicated to serving others in such a senseless act. I'll miss her relentless desire to serve & her bright smile seemingly everywhere across the Detroit area," the congresswoman said.




Read More: Police are searching for motive in the death of the Detroit synagogue leader who was found