A U.S. soldier who fled to North Korea has been accused by the Army of multiple crimes, including deserting, assaulting fellow soldiers and soliciting child pornography, according to documents obtained by NBC News.
Pvt. 2nd Class Travis King, 23, was expelled by North Korea in late September and taken into U.S. custody in neighboring China, officials said at the time. His release came two months after he ran across the fortified border between North and South Korea, where he was stationed.
King is charged with eight counts, according to the charging sheet, including desertion in connection with his dash into North Korea, one of the world's most reclusive countries.
In two other counts, he is accused of soliciting a Snapchat user to produce child pornography and possessing a video of what appears to be a minor engaging in sexually explicit conduct.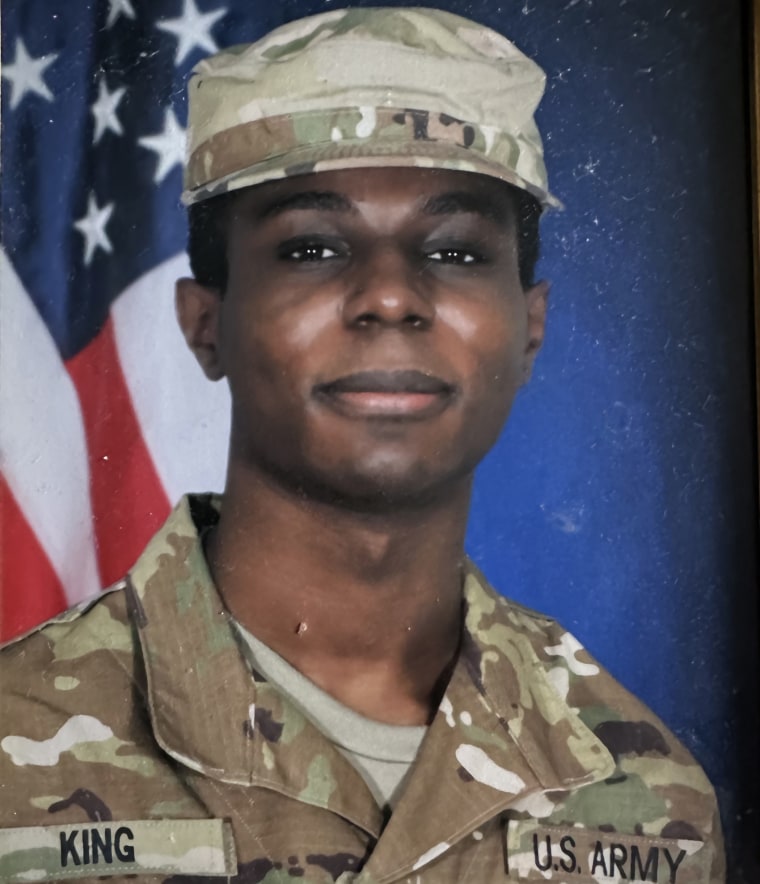 Other accusations include attempting to escape from U.S. military custody in October 2022, leaving base after curfew, striking other military personnel and drinking alcohol against orders, the document says.
King ran across the Demilitarized Zone that separates North and South Korea on July 18. Earlier that day he had been escorted by the U.S. military to an airport outside Seoul, where he was to fly back to the U.S. for possible further disciplinary action after serving 48 days in a South Korean prison in lieu of paying a $4,000 fine on charges that included damaging public property.
Instead of getting on the plane, King joined a civilian tour group headed for the joint security area along the DMZ, a senior administration official said at the time. During the tour he broke from the group and ran across the border "willfully and without authorization," Defense Secretary Lloyd Austin said.
Little is known about how King was treated in North Korean custody, and he has not publicly explained his actions.
King, who returned to the U.S. on Sept. 28, had been undergoing re-integration at Joint Base San Antonio but was transferred to Fort Bliss, Texas, on Wednesday. A military commander signed an order committing him to pretrial confinement, one of his lawyers said.
King's legal team believes that was an error, and a hearing likely to be held next week will determine whether he remains confined, said Franklin D. Rosenblatt, the lead counsel of King's legal team and an assistant professor at the Mississippi College School of Law.
"We ask people to be fair-minded about this and to withhold judgment," said Rosenblatt, who previously represented Bowe Bergdahl, the former Army soldier who pleaded guilty to desertion after he walked off his post in Afghanistan in 2009 and was captured by the Taliban.
"I think we just have to tread really carefully when we take people who have returned from captivity and decide we're just going to throw the book at them and put them in pretrial confinement," he said.
King's mother, Claudine Gates, said in a statement Thursday that she was concerned about her son's mental health and that he should be presumed innocent.
"A mother knows her son, and I believe something happened to mine while he was deployed," she said.
"I am grateful for the extraordinary legal team representing my son," she added, "and I look forward to my son having his day in court."


Read More: Travis King, U.S. soldier who ran into North Korea, is charged with desertion