An American tourist was arrested at the Israel Museum in Jerusalem on Thursday for allegedly causing "substantial damage" to prized ancient sculptures, Israeli police said.
Israeli police identified the suspect only as a 40-year-old American man. They said initial questioning suggested he had defaced the statues because he viewed them as being "'idolatrous' and contrary to the Torah."
The tourist remained in police custody on Friday as he was investigated for "deliberate defacement of valuable sculptures," police said.
At least two statues could be seen lying damaged on the floor with their podiums knocked down in photos provided by the Israel Museum. The Israel Museum did not immediately respond to a request for further comment from NBC News.
The man's lawyer, Nick Kaufman, said the statues his client was accused of knocking down were second-century Roman sculptures.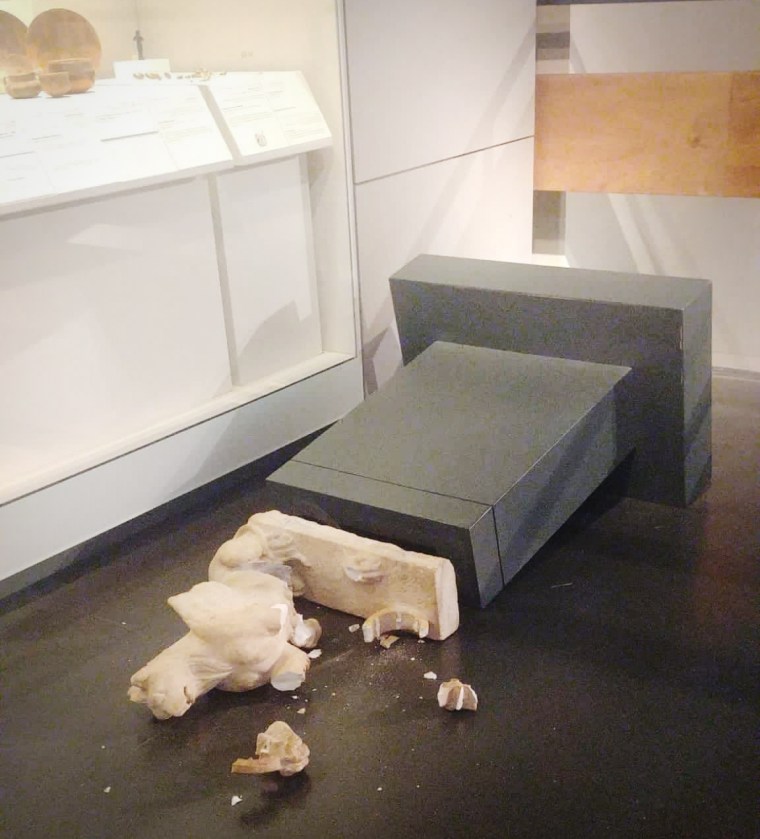 Kaufman said his client did not act out of religious "fanaticism." Rather, he said he believed his client suffered from a mental health condition labeled by psychiatrists as "Jerusalem syndrome." The condition is believed to cause foreign pilgrims who visit Jerusalem, a city considered sacred to Christians, Jews and Muslims, to believe they are figures from the Bible, according to The Associated Press.
"His acts prior to the incident and general demeanor suggest that he is suffering from a well-recognized condition known as the Jerusalem syndrome," Kaufman said in a statement shared with NBC News.
The lawyer said his client was referred for psychiatric evaluation with agreement from authorities.
Police said Kaufman had requested that the suspect's name be withheld. They said the request was initially rejected by a magistrate, but a final decision was postponed until next Sunday to give Kaufman time to submit an appeal on behalf of his client.
Both police and Kaufman said the American was expected to be released from pre-trial detention on Monday.


Read More: American tourist arrested for smashing statues at Israel Museum, police say