US law enforcement is familiar with pursuing much more dangerous escapees but there was one guy in stripes this week who gave officers the run-around, then ultimately came quietly.
"We see the tail," a cop called as he gave chase through the darkness of a public park equipped only with a large towel.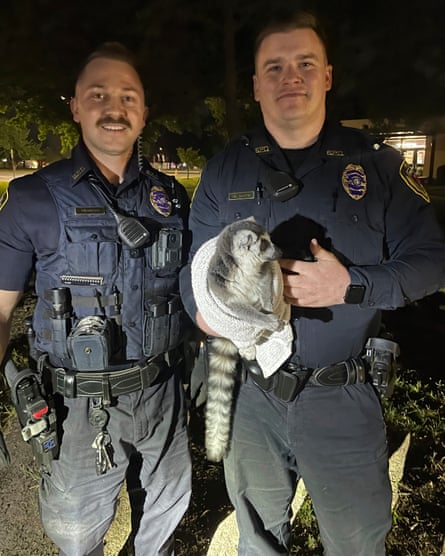 Bounding ahead of him and a colleague was a lemur. Police body-camera video shows two officers attempting to nab the speedy little primate, which had made a dash for freedom in Springfield, Missouri.
The lemur glanced back, all wide eyes and fluffy ears, then swished its distinctive black-and-white banded tail and dashed away again, sprinting and weaving through a parking lot, down a sidewalk, across grass and around trees.
Eventually the officer tossed the towel like a net, but the frightened lemur slipped out and fled once again as the officer could be heard exclaiming: "Dang it", and passersby joined in.
Finally, another officer was able to grab the lemur and hold it still as his partner got it "snuggled up" in the towel, the Springfield police department said in a Facebook post.
It's a long way from Missouri to Madagascar off the south-east coast of the African mainland, the only country where wild lemurs are native. This unfortunate fellow had been reported missing by its Springfield owners, who were later reunited with it. But they won't be able to keep it – city ordinance bans having wild animals as pets.
Instead, police said the lemur has been connected with a local wildlife rescue agency, where it will be "well cared for and loved".