Brazil's supreme court has sentenced a far-right fanatic to 17 years in prison for his role in the failed attempt to topple the country's leftwing government on 8 January this year.
Aécio Lúcio Costa Pereira, 51, a sanitation worker from São Paulo, was the first rioter to face trial for January's dramatic assault on Latin America's largest democracy.
Hundreds more will find themselves in the dock in the coming months to face charges over what the supreme court's president, Rosa Weber, called Brazil's "day of disgrace".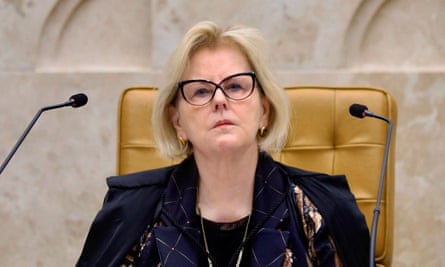 On Thursday a majority of the court's 11 members ruled that Pereira, a hardcore supporter of the former president Jair Bolsonaro, deliberately sought to overthrow Bolsonaro's successor, Luiz Inácio Lula da Silva, when he and thousands of fellow radicals ran riot in Brasília eight days after Lula took power.
Calling for a 17-year sentence, the supreme court's justice, Alexandre de Moraes, said the "enemies of freedom" deserved exemplary punishment for their "dastardly putschist attack".
Six of Moraes's supreme court colleagues confirmed that judgment, to the delight of members of Lula's administration.
"Long live Brazilian democracy!" tweeted Gleisi Hoffmann, the president of Lula's Worker's party (PT). "Let [this sentence] be a lesson to the putschists, because all of the participants, financial backers and masterminds of this coup will be discovered and held to account for these terrorist attacks on our country."
Weber said the evidence presented to the court showed that Pereira and his fellow rioters stormed the supreme court, presidential palace and Congress hoping to trigger a military intervention to unseat Lula.
"In my view, this mob … tried to abolish the democratic rule of law … in order to depose a legitimately elected government," Weber said in announcing the verdict on Thursday lunchtime.
Speaking on the television network GloboNews, the commentator André Trigueiro said the court's judges were fulfilling a historic responsibility by signalling "that what happened on 8 January was utterly abhorrent and can never be repeated".
Trigueiro said: "These were unprecedented events in our history … which could have led to a coup d'état. Only by a whisker didn't something worse happen."
Many in Brazil hope that as well as the rioters, Bolsonaro himself will one day be brought to justice for his alleged role in January's violence. Critics accuse the far-right populist of inciting the uprising against Lula's government in an attempt to retain power after losing last October's election – claims Bolsonaro denies.
Federal police investigators are examining the role Bolsonaro and several close allies may have played in the alleged plot to seize power. Last week it emerged that Bolsonaro's former aide-de-camp Lt Col Mauro Cid had sealed a plea-bargain deal with police obliging him to provide information in several investigations, including into the attempted coup.




Read More: Far-right fanatic given 17 years for role in Brazil coup attempt