Iranian President Ebrahim Raisi said his government will decide how it will spend $6 billion in previously frozen funds due to be released in a prisoner exchange agreement with the United States, telling NBC News' Lester Holt that the money will be spent "wherever we need it."
In an exclusive interview in Tehran, Raisi said that the U.S.-Iran prisoner exchange deal would be completed in "due time" and that the American detainees were in healthy condition.
Under the prisoner swap arrangement, Tehran will be granted access to the roughly $6 billion in Iranian oil revenues that were blocked in South Korean banks because of U.S. sanctions. But U.S. officials say Qatar's central bank will oversee the funds and Iran will only be permitted to use the money for humanitarian purposes in accordance with U.S. sanctions.
But Raisi said that Iran would have "authority" over how the funds would be spent. "This money belongs to the Iranian people, the Iranian government, so the Islamic Republic of Iran will decide what to do with this money," he said, according to an Iranian government translator.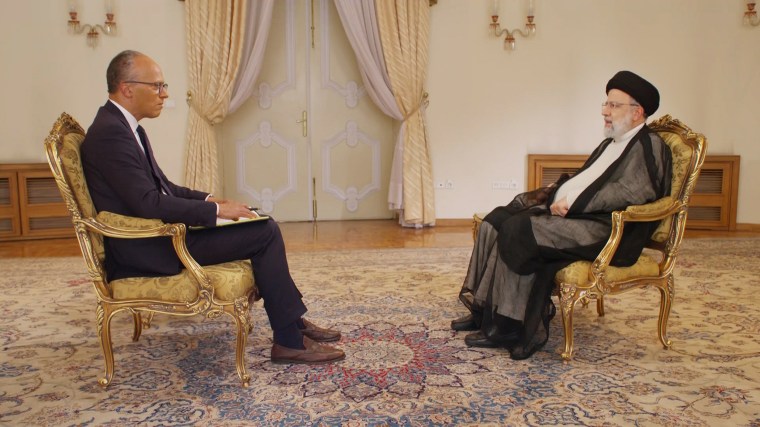 Asked if the money would be used for other purposes apart from humanitarian needs, Raisi said: "Humanitarian means whatever the Iranian people needs, so this money will be budgeted for those needs and the needs of the Iranian people will be decided and determined by the Iranian government."
The prisoner exchange calls for the release of five American citizens held in Iran in return for five Iranians under detention in the U.S., and also grants Tehran access to the $6 billion in oil revenues that have been blocked. 
The five American prisoners were placed under house arrest Aug. 10 as a first step in the agreement, with their release contingent on the transfer of the funds from South Korea to Qatar's central bank. 
The Biden administration informed Congress on Monday that it had taken concrete steps to clear the way for the prisoner exchange, issuing a waiver that allows international banks to transfer the $6 billion to Qatar without the threat of U.S. sanctions.
NBC News first reported on the prisoner exchange negotiations in February. For more on this story, tune in to "NBC Nightly News with Lester Holt" on Tuesday night at 6:30 p.m. ET/5:30 p.m. CT or check your local listings.


Read More: Iranian president says Tehran will spend $6 billion released in prisoner exchange 'wherever