The storm system I've been talking about the past few days won't stay put together as long as earlier indicated. The northeast part of Lower Michigan will still have significant rain tonight while much of Lower Michigan will only have occasional showers. A section of northwest Lower won't even get any rain. Monday is only a sporadic light shower day now.
Here's the always updated radar showing the brunt of rain late this evening over northeast Lower Michigan and the Thumb.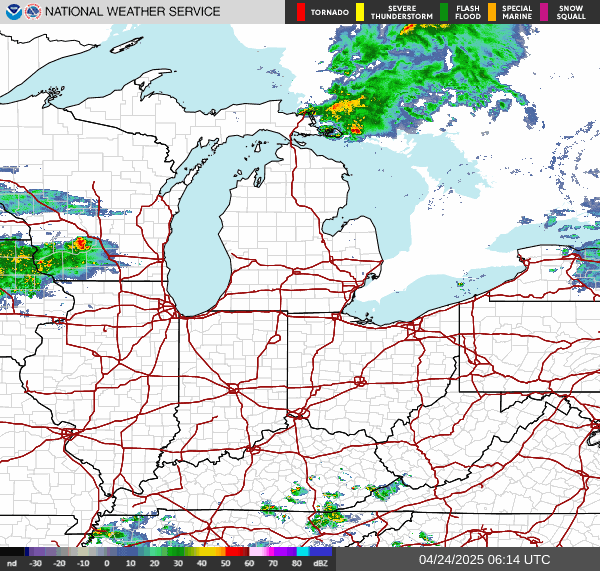 The storm separated into several areas of rain. The heavy rain in Illinois this evening is going to track east and stay mostly south of Michigan.
Here's the radar forecast from this evening to Monday evening.
Tonight is wet in northeast Lower Michigan. Tomorrow morning and early afternoon will be damp across the far southern tier of counties along the Indiana and Ohio borders.
For most of us Monday we may just have a brief light shower or two.
Here's the total additional rainfall forecast from 2 p.m. this afternoon. So the forecast does include the rain that has already fallen this afternoon.
Northeast Lower will wind up with one to two inches of rain. Surrounding northeast Lower is a yellow shaded area that should have one-half inch to one inch of rain from this afternoon through Monday afternoon. This area includes Alpena, Reed City, Saginaw, Flint and Huron County. The sporadic showers Monday should give the rest of southern Lower less than one-quarter of an inch of additional rain.
We've lucked out that a large heavy rain area is going to stay just south of Michigan. One of the reasons for the change is several storm systems are lined up west of this storm. Those storm systems are taking some of the energy from this current storm system. In the end we get several rains over the next week versus one big consolidated rain now.
The next rains look to move through Michigan around Thursday and sometime Friday or Saturday. We will track those rains together.


Read More: Monday looking less rainy; Here is what's left on rain and where