Niger's president, in an op-ed published Thursday, raised concerns that the political unrest in his country will present Russia with an opportunity to gain a foothold and advance its interests on the African continent. 
"With an open invitation from the coup plotters and their regional allies, the entire central Sahel region could fall to Russian influence via the Wagner Group, whose brutal terrorism has been on full display in Ukraine," Niger President Mohamed Bazoum wrote in The Washington Post. 
"Boko Haram and other terrorist movements will surely take advantage of Niger's instability, using our country as a staging ground to attack neighboring countries and undermine peace, safety and freedom around the world," he continued. 
"They will ramp up their efforts to target our youths with hateful anti-Western indoctrination, turning them against the very partners who are helping us build a more hopeful future."
HAITI EXPRESSES SKEPTICISM OVER KENYA'S OFFER TO SEND POLICE TO COMBAT HAITI'S GANG VIOLENCE
Bazoum remains detained inside his palace in Niamey in the possession of presidential guards after they claimed to take control of the country.
Col. Maj. Amadou Abdramane, a spokesperson for Niger's security forces, said in a televised statement last week that the country's constitution was suspended and that Gen. Abdourahmane Tchiani was in charge, The Associated Press reported.
Pictures of celebrations following the announcement showed a number of people waving Russian flags and signs saying, "Russie Vivie," or "Live Russia." 
Niger has also already attracted interest from Russia's infamous mercenary Wagner Group, which has targeted the country due to its rich uranium production.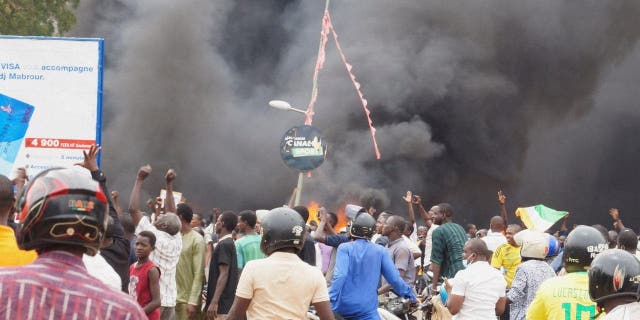 Wagner's founder and currently exiled leader Yevgeny Prigozhin celebrated Niger's coup, arguing that "What happened in Niger has been brewing for years."
"The former colonizers are trying to keep the people of African countries in check," Prigozhin said. "In order to keep them in check, the former colonizers are filling these countries with terrorists and various bandit formations, thus creating a colossal security crisis."
ZIMBABWEAN OPPOSITION CLAIMS PRESIDENT'S SUPPORTERS STONED ONE OF THEIR MEMBERS TO DEATH
"The population suffers. And this is the (the reason for) love for PMC (private military company) Wagner, this is the high efficiency of PMC Wagner," Prigozhin added.
Wagner already has communicated with neighboring Mali, which asked for help after ousting the French military, with many of them moving into Niger. Reports indicate that Wagner could soon arrive in Burkina Faso, too.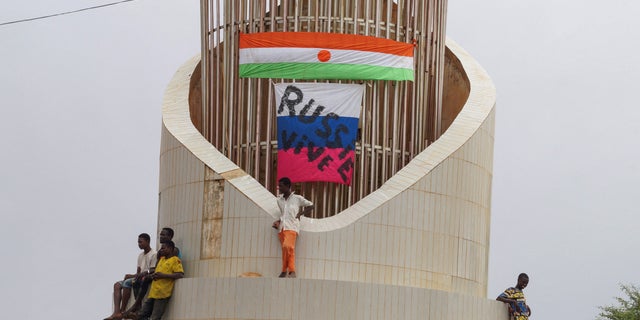 Bazoum urged the U.S. "and the entire international community to help us restore our constitutional order," but the U.S. shortly afterward announced plans to evacuate some American citizens out of Niger.
The Pentagon stressed that the country's "force posture" in Niger has not changed and that the military remains committed even though some Americans will leave the country for safety reasons.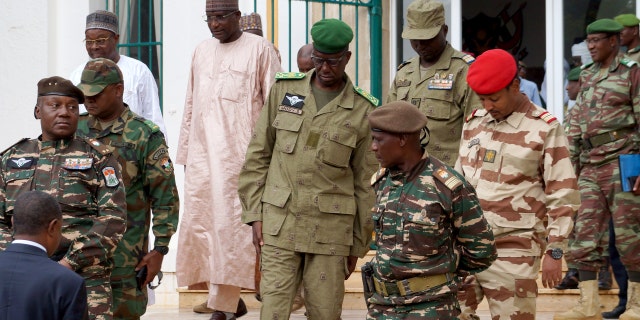 "The department continues to operate there," Pentagon Deputy Spokesperson Sabrina Singh said during an appearance on "America's Newsroom" Friday morning. "Niger's an incredibly important regional partner … in terms of counterterrorism, and so we hope that things can be resolved diplomatically."
VIETNAM WILL EXPORT 2M DOSES OF SWINE FEVER VACCINE TO PHILIPPINES BY OCTOBER
Singh noted, "Again, I hope it's a show of confidence that the department right now is not changing its force posture," she added. "And, yes, we are having an order departure of some American citizens, but the embassy is continuing to run, and our service members are continuing to work side by side their Nigerian counterparts."
U.S. Secretary of State Antony Blinken announced on Wednesday that he ordered a temporary departure of non-emergency personnel and eligible family members from Niger due to "ongoing developments" and "out of an abundance of caution."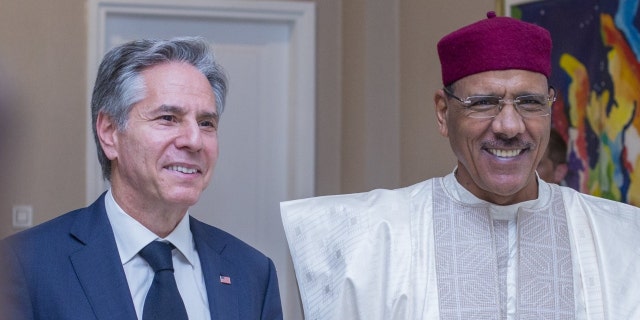 "The U.S. is committed to our relationship with the people of Niger. The embassy remains open, and our leaders are diplomatically engaged at the highest levels," he wrote on social media platform X. 
The senior pastor of Cornerstone Christian Center in Antioch, California, said the U.S. State Department had arranged a flight home for him and nearly a dozen other volunteers who had gone on a nine-day trip to Niger for a Vacation Bible School mission, he told Fox News. 
CLICK HERE TO GET THE FOX NEWS APP 
"Commercial flight options are limited. We updated our travel advisory to reflect this and informed U.S. citizens that we are only able to provide emergency assistance to U.S. citizens in Niger given our reduced personnel," a post from the State Department said.
Fox News Digital's Julia Musto contributed to this report. 


Read More: African president warns of 'opportunity' for Russia as political unrest continues