1. Georgia Bulldogs (11-0)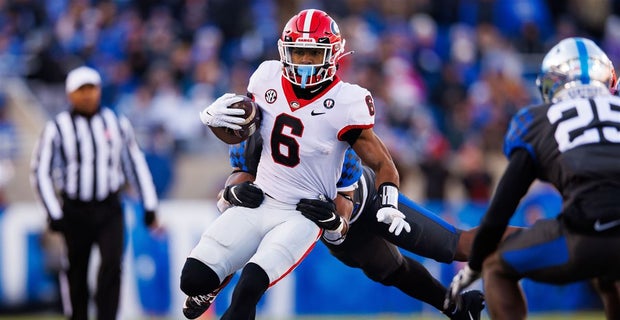 Saturday's result: Beat Kentucky, 16-6
SEC East champion and top-ranked Georgia fought off a feisty Kentucky team with several key stops to stay unbeaten. The defending national champions will be No. 1 in Sunday's poll and Tuesday's new playoff rankings and have just about locked their spot in the final four this season. They'll play Georgia Tech in the finale before battling LSU in the SEC title game where seeding for the playoff will be decided.
2. Ohio State Buckeyes (11-0)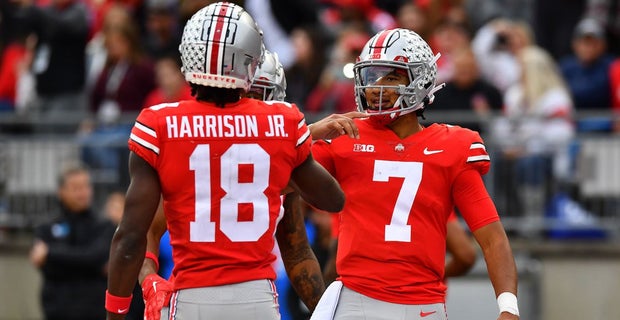 Saturday's result: Beat Maryland, 43-30
Dallan Hayden rushed for 147 yards and three touchdowns, C.J. Stroud threw a touchdown pass and a late defensive touchdown helped the Buckeyes avoid a colossal loss at Maryland to set up next weekend's unbeaten showdown against Michigan. The winner of 'The Game' gets top billing in the playoff race alongside Georgia and clinches the Big Ten East. The loser could still have a shot to reach the final four, but would no longer control their own destiny as the group of elites continue to jockey for position.
3. TCU Horned Frogs (11-0)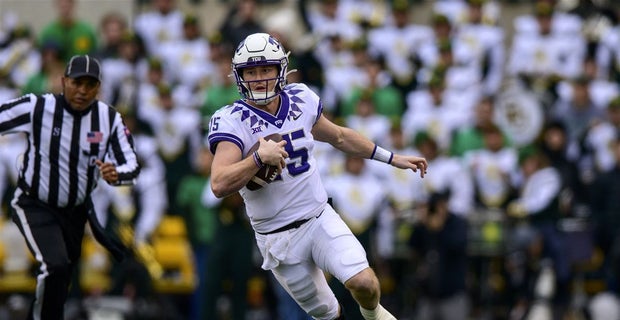 Saturday's result: Beat Baylor, 29-28
TCU's magical season nearly came to crashing halt Saturday, but the Horned Frogs scored nine points in the final two minutes at Baylor to stay unbeaten, 29-28, with a walk-off victory as time expired. Griffin Kell's 42-yard field goal as time expired lifted TCU to its 11th straight win this season. Ranked No. 4 in this week's latest playoff rankings, TCU manufactured another of its patented comebacks on the road to continue its path toward a final-four berth.
Baylor scored 14 points in the fourth quarter to win after trailing 20-14 at one point prior to Blake Shapen's 12-yard touchdown pass to Kelsey Johnson. After another touchdown from the Bears midway through the final frame, TCU had a chance late in the contest to score and potentially tie the game with a two-point conversion, but Baylor's defense held to preserve a two-point lead. That's when TCU got the ball back after a punt and Max Duggan put the Horned Frogs in range to win.
4. Michigan Wolverines (11-0)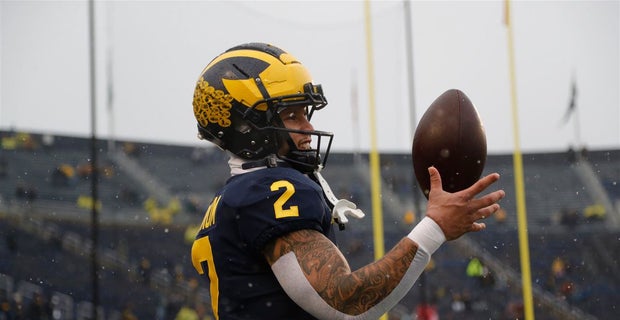 Saturday's result: Beat Illinois, 19-17
Michigan running back Blake Corum exited Saturday's win over Illinois and after crashing to the turf on his knee in the second quarter. Corum, a Heisman candidate through 12 weeks, rushed for 103 yards and a touchdown on 17 carries before he hobbled off to the locker room. He returned for a play in the third quarter with a 5-yard rush, but Michigan reserve C.J. Stokes handled the reps from there in the backfield. Michigan coach Jim Harbaugh does not know Corum's status moving forward ahead of next week's game against Ohio State.
He did say Corum's knee was "structurally good, which is great news" before going to another question in the aftermath of the Wolverines' near-whiff against the Fighting Illini.
5. USC Trojans (10-1)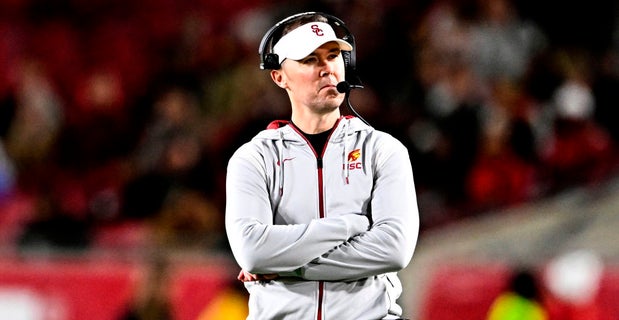 Saturday's result: Beat UCLA, 48-45
Behind a Heisman-caliber performance from Caleb Williams, USC clinched a berth in the Pac-12 Championship Game with a thrilling win over UCLA to keep playoff hopes alive. USC should move up in Sunday's rankings after Tennessee's loss to South Carolina and appears to be in control of its final-four fate by winning out. Williams, one of the Heisman frontrunners, threw for 470 yards and two touchdowns on a night UNC quarterback Drake Maye failed to throw a touchdown pass in his team's 21-17 loss to Georgia Tech.
6. LSU Tigers (9-2)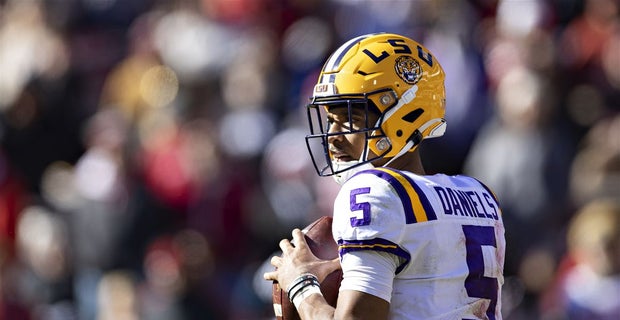 Saturday's result: Beat UAB, 41-10
LSU quarterback Jayden Daniels passed for 297 yards and threw for another 111 during a notable win over UAB leading into next week's SEC finale for the Tigers. LSU, already locked into the SEC Championship as the West winner, can make the playoff this season if the Tigers win their next two contests. That would make LSU the first two-loss team to ever appear in the playoff. Daniels is doing all he can to win SEC Player of the Year too and is battling Hendon Hooker for the honor.
7. Alabama Crimson Tide (9-2)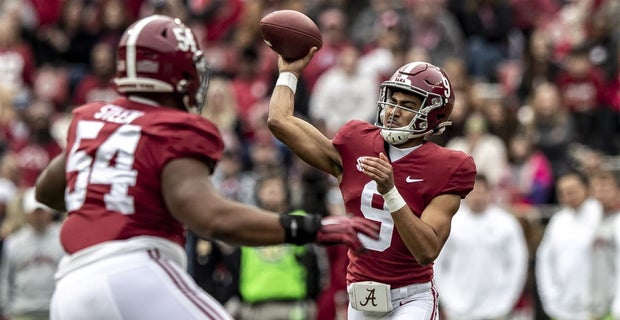 Saturday's result: Beat Austin Peay, 34-0
With Jahmyr Gibbs out, reserve Jase McClellan rushed for 156 yards and two scores as Alabama blanked Austin Peay to win its ninth game of the year. Bryce Young threw two touchdown passes and helped the Crimson Tide overcome a somewhat slow start to continue their home winning streak. Alabama will host Auburn in next week's Iron Bowl with a New Year's Six berth on the line for the Crimson Tide inside the top 10.
8. Clemson Tigers (10-1)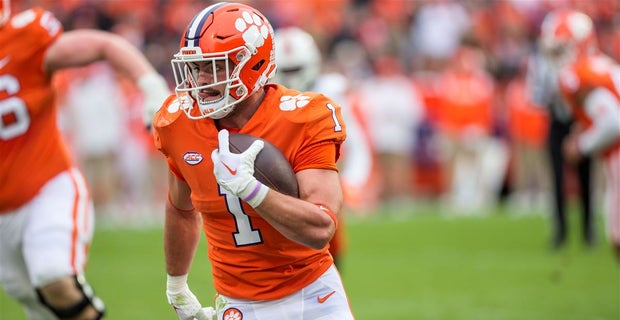 Saturday's result: Beat Miami, 40-10
In need of a statement win to keep pace just outside of the College Football Playoff picture, Clemson poured it on early against Miami during Saturday's 40-10 victory at home. The Tigers won back-to-back games since a loss at Notre Dame removed Dabo Swinney's team from inside the selection committee's top four. First-year Miami coach Mario Cristobal was on the receiving end of social media vitriol in the first half after his team fell behind by 24 points at the break, continuing an alarming trend of the Hurricanes appearing unprepared to start games.
9. Tennessee Volunteers (9-2)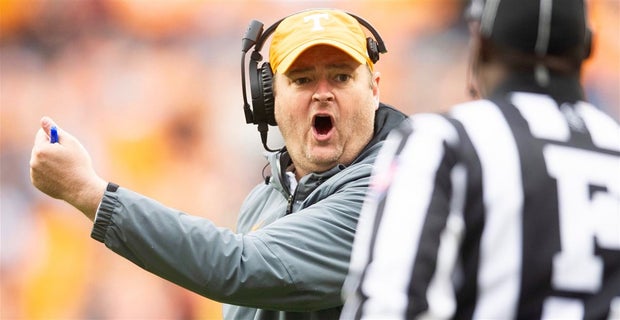 Saturday's result: Lost to South Carolina, 63-38
Tennessee football's College Football Playoff hopes went up in flames against South Carolina on Saturday night as the Gamecocks set several program records during a 63-38 upset win over the fifth-ranked Volunteers. Josh Heupel and the nation's top-ranked offense failed to match the firepower of Spencer Rattler, who threw for 438 yards and a school-record six touchdown passes.
10. Oregon Ducks (9-2)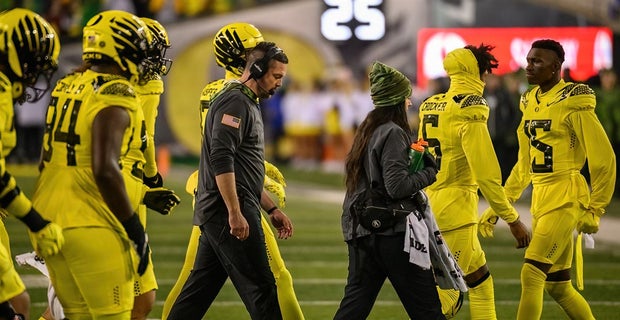 Saturday's result: Beat Utah, 20-17
Oregon bounced back from a loss to UCLA with a crucial home victory over defending Pac-12 champion Utah, which sets up a game next week with Oregon State for a spot in the conference title game. If the Ducks beat the Beavers, Dan Lanning's team is heading to Los Vegas to take on one-loss USC in the final. Many believed Bo Nix would miss Saturday's game against Utah, but Oregon's star quarterback played throughout and finished 25 of 37 passing with his only turnover coming in the fourth quarter.
11. Penn State Nittany Lions (9-2)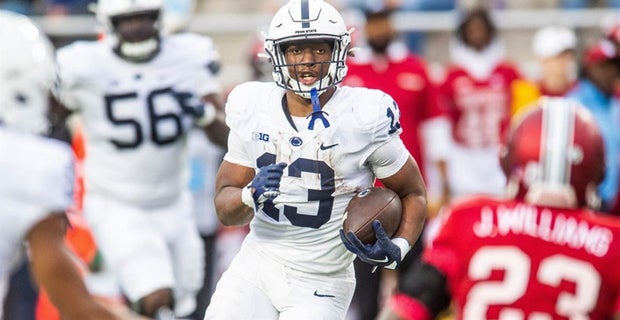 Saturday's result: Beat Rutgers, 55-10
The Nittany Lions are one win away from a 10-win season with their only losses coming to unbeatens Ohio State and Michigan following Saturday's beating of Rutgers. Kaytron Allen rushed for 117 yards and a score on 17 carries and Sean Clifford added a touchdown as Penn State's defense did the rest for a second straight week.
12. Washington Huskies (9-2)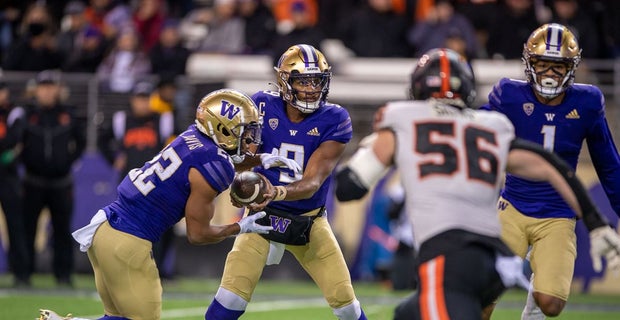 Saturday's result: Beat Colorado, 54-7
Washington rushed for five touchdowns and nearly 300 yards in a dominant victory over the Buffaloes to improve to 9-2 on the season. The Huskies move up in the Week 13 AP Poll following the Rebels' loss to Arkansas and will be in line to reach one of the Pac-12's top bowl games outside of the New Year's Six with the strong finish. Kalen DeBoer managed a great turnaround this season and has a chance at 10 wins next week against Washington State.
13. Notre Dame Fighting Irish (8-3)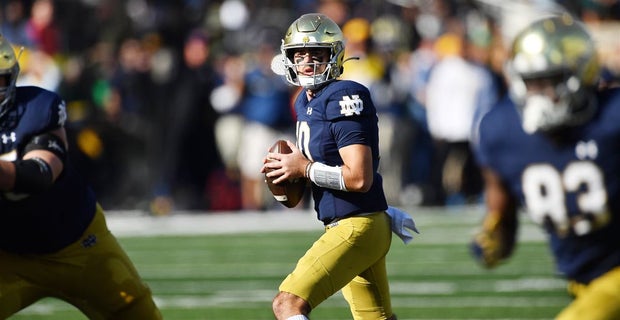 Saturday's result: Beat Boston College, 44-0
No near-escape was needed this week for the Fighting Irish, who manhandled Boston College to win their eighth game. Notre Dame rushed for 281 yards, dominated at the line of scrimmage and has won four straight games to set up a seismic matchup with USC to close our the regular season next week. Notre Dame cornerback Benjamin Morrison recorded three interceptions, highlighting the Fighting Irish's terrific day defensively for a team that has hit their stride since a midseason loss to Stanford made the locker room stronger, according to Marcus Freeman. Now, Notre Dame will have an opportunity at a signature win against the Trojans and perhaps squeeze its way into a New Year's Six bowl game.
14. Kansas State Wildcats (8-3)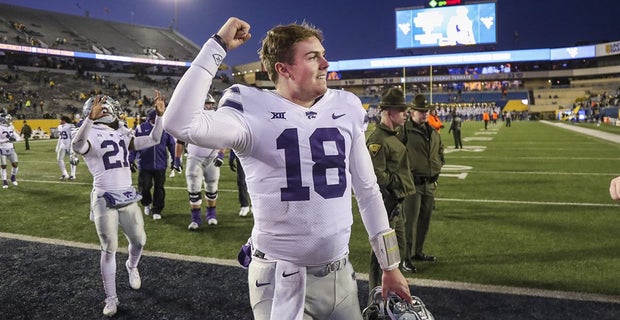 Saturday's result: Beat West Virginia, 48-31
The Wildcats erupted for a 28-point first quarter and led 41-25 at halftime in a wild matchup in Morgantown. Two interception returns for scores, a 49-yard scoring run from DJ Giddens and a couple scores from Will Howard highlighted the scoring for Kansas State, who could be the highest-ranked three-loss team in the Week 13 AP Poll. The Wildcats are a win away from getting to the Big 12 Championship where they would meet TCU.
15. Ole Miss Rebels (8-3)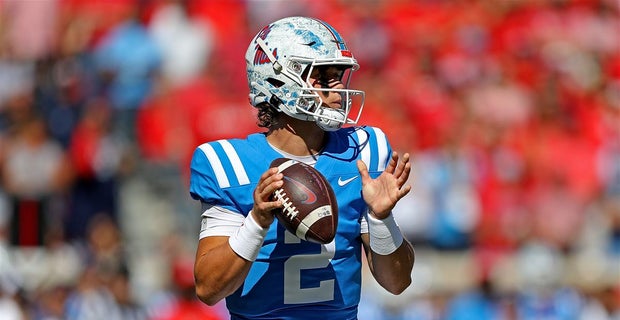 Saturday's result: Lost to Arkansas, 42-27
The Rebels' tumble in the national rankings continues after a thumping against the Razorbacks. Ole Miss dug itself in a deep hole at 42-6 before out-scoring Arkansas by 21 points in the fourth quarter to cut into the deficit. It was too late for Lane Kiffin's crew, however. Kiffin said after the game when asked about the Auburn vacancy that "maybe they wouldn't have me No. 1 if they watched the first half" after a disappointing performance.
16. Utah Utes (8-3)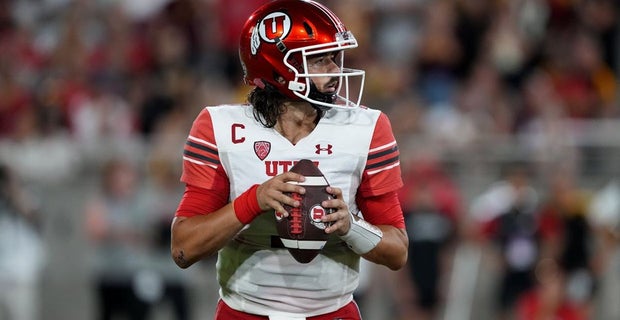 Saturday's result: Lost to Oregon, 20-17
Cameron Rising threw three interceptions and Utah never got going offensively during a deflating loss to the Ducks. Oregon reaches the Pac-12 title game with a win over Oregon State next week.
"Just wasn't good enough," Rising said after the loss at Autzen Stadium. "Didn't do what we needed to do to be successful, and kept shooting ourselves in the foot. I've got to play better, personally."
17. North Carolina Tar Heels (9-2)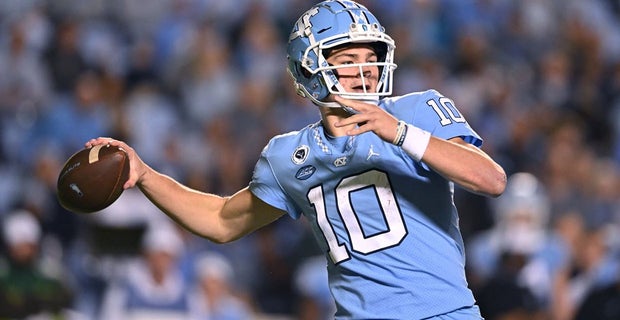 Saturday's result: Lost to Georgia Tech, 21-17
UNC quarterback Drake Maye's Heisman candidacy went up in smoke at home as a three-touchdown favorite during Saturday's upset loss to Georgia Tech. Maye failed to throw a touchdown pass for the first time this season as the Yellow Jackets, with a third-team quarterback, went into Chapel Hill and won. UNC has sewn up the Coastal and will play Clemson for a league title in two weeks, but playoff hopes are over after the unexpected loss.
18. Tulane Green Wave (9-2)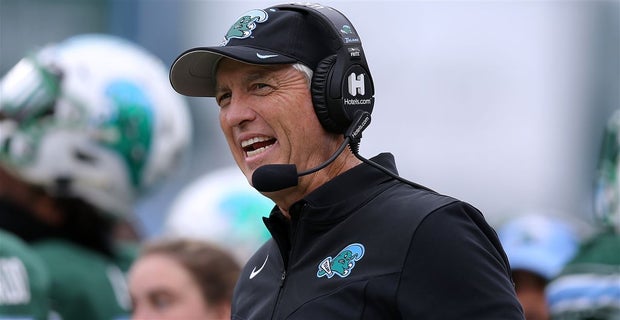 Friday's result: Beat SMU, 59-24
Tulane bounced back from a loss to UCF with a rhythmic performance against SMU and now, coupled with the Knights' loss to Navy, regained control in the American Athletic Conference heading into next week's showdown with Cincinnati. Tulane will be the highest-ranked Group of Five team this week and still has a great opportunity to win out and make the Cotton Bowl with a strong finish this season.
19. UCLA Bruins (8-3)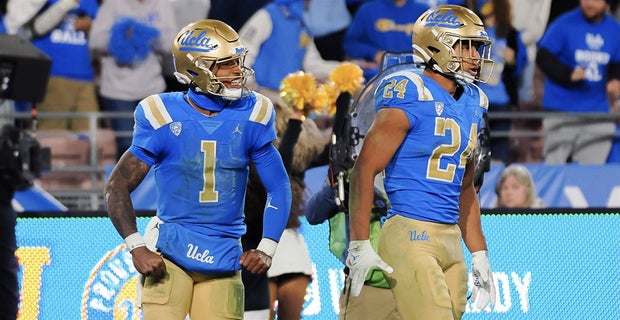 Saturday's result: Lost to USC, 48-45
Back to back losses for the Bruins nuked UCLA's shot at winning the Pac-12 this season and Dorian Thompson-Robinson would like to have several throws back he made during Saturday's setback against USC. His third interception in the final moments clinched the Trojans' berth in the league title game and kept USC in the playoff hunt. Meanwhile, it was a great season for Thompson-Robinson and the Bruins, who hovered around the top team before the last two games.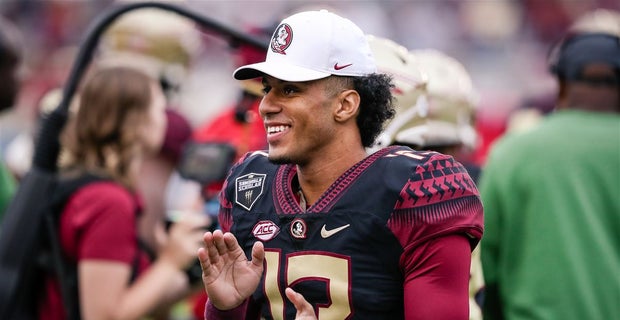 20. Florida State Seminoles (8-3): Beat Louisiana, 49-17
21. Cincinnati Bearcats (9-2): Beat Temple, 23-3
22. Coastal Carolina Chanticleers (9-1)
23. Oregon State Beavers (8-3): Beat Arizona State, 31-7
24. Texas Longhorns (7-4): Beat Kansas, 55-14
25. UCF Knights (8-3): Lost to Navy, 17-14
Florida State played turnover-free football and won its fourth straight game in blowout fashion. The Seminoles rushed for 251 yards and multiple touchdowns to set up next week's regular-season finale against Florida, who lost at Vanderbilt. A win over the Gators puts Florida State with nine victories and likely pushes the Seminoles to one of the ACC's top-tier bowl games next month. Mike Norvell's third season in Tallahassee has seen major improvements.




Read More: College football rankings: Projecting AP Top 25 poll entering Week 13