Kevin Durant was a hot young talent when he made it to the NBA in 2007. He won the Rookie of the Year award with the Seattle Supersonics, scoring above an average of 20 points per game. The Brooklyn Nets forward had a great opportunity to make it to the USA Team for the 2008 Beijing Olympics. However, the then 19-year-old was snubbed by the selection committee. Unfortunately, Durant still regrets missing out on his first Olympics stint to date.
Team USA could not hold off a scoring talent like Kevin Durant for too long. He went on win three gold medals at the Olympics in 2012, 2016 and 2021, while representing his country. KD holds the record for the highest average by an American at Olympics with 19.5 points per game. Moreover, Durant scored at an average of 19.4 PPG during the 2016 Olympics, winning his second gold for the USA. 
ADVERTISEMENT
Article continues below this ad
Kevin Durant wanted to be on the 2008 Redeem Team
Despite two medals for his country, KD feels disappointed that he could not make it to the Redeem Team which won at the 2008 Olympics. Team USA had missed out previously at the 2004 Olympics. The roster was filled with scoring players like Kobe Bryant, Lebron James, and Dwayne Wade. Thus, KD could not make it to the 2008 roster despite being a young sensation. Specific role players like Michael Redd and Tayshaun Prince were picked over Durant.
The two-time NBA champ had high hopes of making it to Team USA in 2008. He felt that his NBA performance as a rookie was enough to make it to the team. Talking to ESPN, Durant said, "Nobody really expected me to play that well in the practices, but I was 19 and I felt like I got snubbed."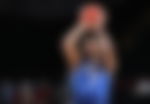 A young Durant felt disrespected at that time. He desperately wanted to be a part of the Redeem Team even if meant sitting on the sidelines and watching legends play. KD added, "I just wanted to learn, soak that energy up from those guys."
KD's future at the Brooklyn Nets looks quite uncertain 
ADVERTISEMENT
Article continues below this ad
It must have been a heartbreaking moment for the 12-time All-Star at that time. However, he did not let it affect his game and continued to grow. Presently, Durant is one of the most reliable scorers in the league. The two-time Finals MVP averaged 29.9 points, 7.4 rebounds, and 6.4 assists per game in 55 appearances last season. 
Unfortunately, he was at odds with the Brooklyn Nets and demanded a transfer if management changes were not made.
ADVERTISEMENT
Article continues below this ad
Watch This Story: TOP 5 "Welcome to the NBA' moments featuring Stephen Curry, LeBron James, and Kevin Durant
However, Durant is likely to start for the Nets in the upcoming season.


Read More: "Felt Like I Got Snubbed": 3-Time Olympic Gold Medalist Kevin Durant Was Upset at Being Left