Vice President Kamala Harris is set to travel to United States allies Japan and South Korea in the wake of a fourth instance in which President Joe Biden has committed to defending the disputed island of Taiwan from a potential attack from China.
Speaking to reporters on a press call Friday, a senior administration official said that Harris would first travel Monday to Japan, where she will hold meetings with regional officials and attend the state funeral of former Prime Minister Abe Shinzo, who was assassinated by a lone gunman in July.
"The purpose of this trip is threefold," the official said, "first, obviously, again to honor the legacy of Prime Minister Abe and support the Japanese people as they mourn the tragedy of his assassination. Second, reaffirm the United States' commitment to our allies in an increasingly complex security environment and, third, to deepen our overall engagement in the Indo-Pacific region."
In meeting with current Japanese Prime Minister Kishida Fumio, the official said Harris will "have a discussion on issues such as the strength of the U.S.-Japan alliance, our broad cooperation on many issues including space and also a range of regional and global issues, putting the importance of preserving peace and stability in the Taiwan Strait and the importance of promoting a free and open Indo Pacific."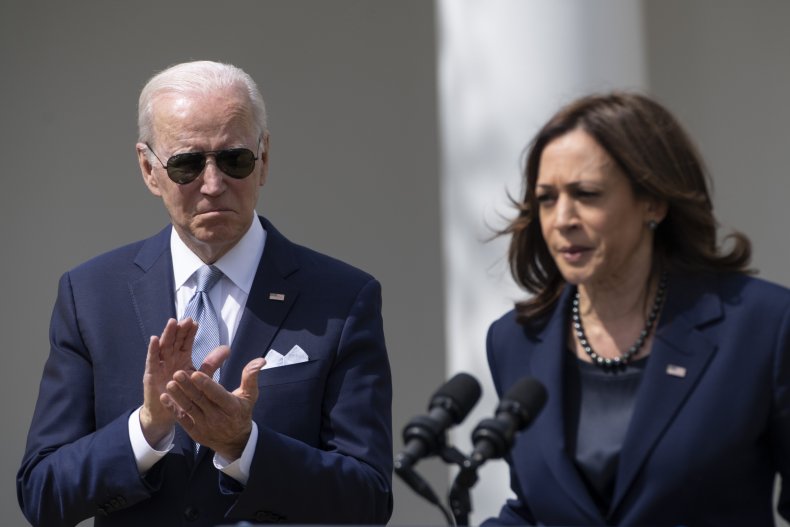 After meeting with Australian Prime Minister Anthony Albanese and South Korean Prime Minister Han Duck-soo, Harris will attend meetings with Japanese business leaders before heading to South Korea on Thursday, "where she will underscore the strength of the US-ROK alliance and discuss the threat posed by the DPRK the importance of peace and stability across the Taiwan Strait our growing economic and technology partnership and the range of regional and global issues."
She will also lead discussions in South Korea on women's issues before returning to the U.S.
While the trip was set to cover a range of topics, the official on Friday's call said that the Taiwan issue has "been a focus recently, where we've made clear our concerns about Chinese actions in and around Taiwan."
"I think the United States has made its position clear and one of the aspects of our approach to Taiwan is the importance of working together with partners and allies," the official said, "and obviously, Japan, the Republic of Korea, have a lot of at stake in Taiwan, in the region and I think we are very much aligned with our partners."
"This will be an opportunity for the President to discuss the recent developments in the way forward with the leaders of both Japan and the Republic of Korea," the official added.
Tensions around Taiwan have been particularly severe since House Speaker Nancy Pelosi became the first in her position in 25 years to travel to the island during her own tour of Asia last month. China responded with its largest-ever People's Liberation Army drills surrounding Taiwan.
The issue was again raised earlier this week when, during an interview with CBS News aired Sunday, Biden explicitly committed to defending Taiwan with U.S. military force in the event that it came under an "unprecedented attack" by China.
Such a position breaks with decades of U.S. strategic ambiguity surrounding the issue and marks the fourth time that Biden has said he would come to Taiwan's aid if China sought reunification by force. Since winning China's civil war in 1949, the Communist-led mainland has laid claim to the island, where exiled Nationalists set up a rival government officially recognized by the U.S. until 1979.
Even after Washington cut official ties with Taipei in favor of Beijing that year, successive U.S. administrations have maintained informal relations with Taiwan that have expanded in recent years, especially under Biden and his predecessor, former President Donald Trump. The issue is at the core of strained U.S.-China relations, though U.S. officials continue to claim that Washington's policy has not changed.
"I don't have anything to add to what the president said," the official on Thursday's press call told reporters. "He's been asked a number of times if the United States would come to Taiwan's assistance. He said the other day…'Yes.'"
"But he has also said we've made clear that our policy hasn't changed," the official added. "We have the one-China policy. We oppose unilateral changes to the status quo. And as I said a minute ago, discussing Taiwan in the context of this trip, it's important to be aligned with our allies and partners on that issue, and we think we definitely are."
Asked about the issue the previous day on the sidelines of the United Nations General Assembly in New York, Kishida also told reporters that his country's position on Taiwan was "unchanged" after Biden's comments.
The Japanese premier declined to discuss whether or not he would commit Japanese forces in a hypothetical conflict, saying his "response would be defined after the contingency occurs."
"Our mission is to defend the livelihood of our people, and the contingency and the security and safety legislation has been implemented," Kishida said, "and we will take all responses that will uphold the legal framework."
The matter also came up Friday during Secretary Antony Blinken's meeting with Chinese Foreign Minister Wang Yi in New York. On this topic, a State Department readout said Blinken "emphasized that the United States is committed to maintaining peace and stability across the Taiwan Strait, consistent with our longstanding one China policy" and "stressed that preserving peace and stability across the Taiwan Strait is critical to regional and global security and prosperity."
Wang on Thursday warned that "the Taiwan question is growing into the biggest risk in China-U.S. relations" and "should it be mishandled, it is most likely to devastate bilateral ties" during a speech to the Asia Society.
He also addressed the broader perils plaguing ties between Beijing and Washington, including quarrels over human rights, technology and trade, and he warned of a potential direct clash between the world's top two powers if their dynamic did not improve.
"If the U.S. handles Sino-U.S. relations along a zero-sum game mentality and continues to use 'political correctness' to mislead its China policy," Wang said, "it will not only fail to solve its own problems but will also bring Sino-U.S. relations to conflict and confrontation."


Read More: Kamala Harris to head to Asia on heels of Biden's vow to defend Taiwan