Will EU politicians learn from past mistakes that have helped worsen this energy crisis?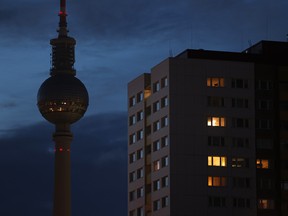 Article content
In the wake of spiralling energy prices, the European Commission is proposing something very much like National Energy Program Ottawa introduced in 1980 to reduce domestic energy prices to below international levels. It is meant to be temporary, lasting perhaps a year, but experience suggests market-distorting policies have a long life once in place.
Article content
The NEP remains deeply embedded in Western Canadian memories to this day. As a result of the 1973 Arab oil embargo and 1980 Iraq-Iran war, oil prices (in June 2022 US$) jumped from $25 in 1973 to $135 in 1980. Pierre Trudeau's government wanted to protect consumers from international price hikes so it imposed an oil export tax that would cover subsidies to keep domestic oil prices below the international price.
Article content
The effect of the NEP was to discourage resource investments — despite the fiscal incentives it provided to oil and gas producers. It also caused a huge transfer of wealth from the oil-producing provinces, especially Alberta, to the oil-consuming provinces in central and Atlantic Canada. The Western alienation this triggered remains an important part of Alberta politics to this day. Witness Danielle Smith's controversial Sovereignty Act, designed in part to protect Alberta's resource development.
Article content
Europe is now facing an energy crisis that will hit consumers and industry hard this winter. The EU's flawed green policies were causing electricity prices to rise even before Russia's unprovoked attack on Ukraine. Despite the collapse in energy prices after 2014 the average European household's electricity price (including taxes) rose by almost half between 2008 and 2021, from €0.16 per kilowatt hour to about €0.23/kwh. After the Russian invasion of Ukraine, it jumped a further 30 per cent to €0.30/kwh.
Not only have electricity prices risen, so have oil, gas and coal prices, hitting business competitiveness hard. Unable to cover their costs, European producers of aluminum, fertilizer and manufactures are beginning to shut down operations and lay off workers.
Article content
In response, the EU Commission has laid out proposals for an "emergency intervention to address high energy prices." Like the NEP, its objective is to "enable a redistribution of resources and financial support to households and businesses to mitigate the effects of sustained high energy prices, reduce energy consumption, support energy intensive industries targeting renewable energy or energy efficiency and develop the Union's energy autonomy." Its precise elements differ from the NEP's, but the basic thrust is the same: take from energy producers to protect consumers from higher international prices.
Three specific measures are key. The first is a binding target of a five per cent reduction in peak hours to reduce consumption of electricity. The second is a 100 per cent tax on generators' revenues of more than 180 Euros per MWh (megawatt hour), which is expected to yield €117 billion to support lower consumer prices and investment in renewables. Finally, to cover the cost of the electricity cap and other market interventions, oil, gas, coal and refinery companies will pay a minimum 33 per cent "solidarity contribution" on profits in excess of 1.2 times their average 2019-2021 taxable profit. This is expected to yield another €25 billion.
Article content
Although these measures are intended to cushion the population from inflation and job losses, they also add fuel to the fire. Keeping energy prices low will bolster demand, countering conservation measures to reduce demand. Taxing energy producers reduces supply, aggravating shortfalls. Governments love windfall taxes, but they don't like to share windfall losses when prices fall abruptly, as they did in 2014 and 2020. If the emergency measures stay in place for several years — the NEP lasted until 1985 — they will lead to an underinvestment in energy production, pushing up long-run prices for energy consumers.
Article content
EU politicians are under heavy pressure to act. But will they learn from past mistakes that have helped worsen this energy crisis? Until the Russian invasion, EU politicians aimed to stop fossil fuel development altogether and, as in Germany, shut down nuclear. Instead, they focused on wind, solar, green hydrogen, biomass and so on, without considering the implications for national security or energy reliability.
In the face of this policy-induced squeeze, several countries were already turning back to coal-based energy before the war. Its use increased 13 per cent in 2021. Now the EU is begging for liquefied natural gas to replace the natural gas Russia is turning off. With new low-emission technologies not yet able to meet demand this backsliding is clearly necessary even if it may end up being temporary.
Article content
Liz Truss, the new British prime minister, gets all this. Not only is she protecting low-income families from high energy prices, she opposes windfall taxes and favours fracking. The EU, meanwhile, remains uncomfortable with oil and gas development, relying on imports from non-EU sources like Norway, the U.K., U.S. and Middle East.
Will Canada bring back the NEP with windfall taxes on the energy industry and utilities? The NDP, the Liberals' junior partner, is pushing hard for it. But we are not in the same situation as Europe. A windfall tax will hurt a secure and reliable energy supply and stoke Western alienation. If the PM who believes there's no business case for LNG brings in a windfall energy tax, watch Alberta go ballistic.


Read More: Jack Mintz: Panicky EU proposes its own National Energy Program